Spinal Decompression Therapy is a breakthrough treatment for chronic back and neck pain!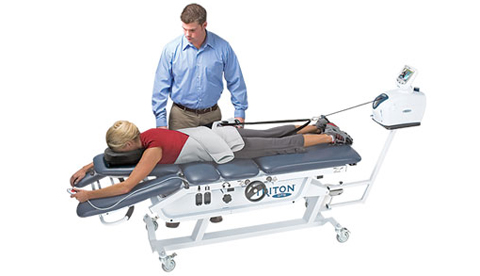 Spinal Solutions in the only clinic in the area to offer computer-guided spinal decompression therapy. Our staff is trained to treat chronic, painful conditions of the cervical and lumbar spine. For patients with disc disease, sciatica, stenosis, radiculopathy and other painful spinal disorders, we offer DTS spinal decompression therapy.
Decompression is a non-surgical spinal rehabilitation program for chronic conditions of the spine. Decompression therapy works by reducing intradiscal pressure and promotes the healing of injured disc material. It can strengthen spinal ligaments and help prevent future recurrence of injury. Painful conditions of the cervical spine (neck) and lumbar spine (lower back) can be successfully managed with decompression therapy. Our goal is to help our patients return to a life without pain and, if desired, a more active lifestyle.
Move Well, Feel Well, Stay Well…at Spinal Solutions